unlimited calling plan, prepaid, unlocked phone, iphone
We are offering unlimited calling and world wide text for only $40 per month, tax included. No hidden fees, no upfront cost. You can use any
GSM unlocked, T-Mobile or AT&T phone.
We also provide with the same service for $25 for 15 days, if you only need the phone for 2 weeks.
our company provides with variety of unlocked GSM phones (Nokia, Samsung, Motorola, LG, Blackberry), including iPhones, that you can use anywhere in the world.
Call us now and switch!!!
You can also transfer your number for free from another service provider (T-Mobile, AT&T, Sprint, Boost mobile, Nextel, Verizon, MetroPCS etc).
1-917-605-4111
Iphones without contract  or unlimited plan for IPhone 2 – $40
Address:
993A 6th Avenue
New York , NY 10018
It's on 6th / Avenue of Americas between 36 West and 37 west
http://iphonerepairmanhattan.com
Ashoka Supports Social Entrepreneurs Around the World
Social entrepreneurs who join Ashoka must meet several requirements. First, they must have a new idea for solving a public need. The candidates must also be creative at both setting goals and solving problems. Second, they must be willing to spend years trying to make their project a success. Third, the candidate's idea must be able to solve an important social problem at the national level, or even internationally.
And finally, an Ashoka candidate must be completely trustworthy. He or she must be concerned with serving other people in a fair and honest way.
CHRISTOPHER CRUISE: Anyone who meets these conditions can become an Ashoka member. There are no age or education restrictions. Ashoka is always looking for new members. You can nominate someone who works as a social entrepreneur in your community or country. You can find email addresses for Ashoka's different area offices at ashoka.org/contact.  ( http://ashoka.org/contact/northamerica )
FAITH LAPIDUS: Include a short written description of the candidate's project and why it is inventive and effective. Also include the candidate's email address. The process to become an Ashoka fellow involves several steps. But the rewards that come from joining the group are worth the time and effort.
About Ashoka on VOA
Desk for rent in web-design office. From $300 month, Internet , ConEd Include
Call for rent . October 2012 New York 10001.
Best location near all transportation on 34 Street.  Second Floor.
Call directly 347-733-7881, we not agency – it's our office.


Our building next Empire State Building, rent desk or office in Manhattan for best price.
www.beautyspausa.com beauty spa usa.com webpage Manhattan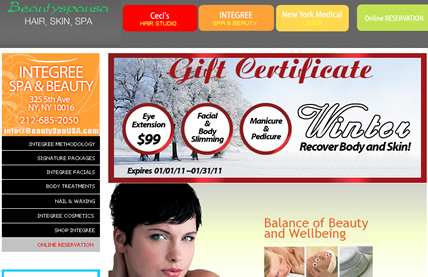 Silhouwell Fit and Silhouwell Comfort are two innovative machines for body sculpting.
Silhouwell Fit is dued to stimulate the activation of the aerobic caloric consumption. The customer sits comportably inside and carries out a light pedalling at a temperture of 36-38° degrees.
Silhouwell Comfort improves the outline of your silhouette thanks to infra-red rays, micromassage and chromotherary. This helps to remove excess liquids, toxins and lactic acids and helps to relax and relent muscular tention. Mud theraphy is included with this service.
CECI'S HAIR STUDIO
Manhattan: 333 5th Avenue, 2Floor NewYork, NY 10016
– INTEGREE SKIN CARE
Manhattan: 325 5th Ave, New York, 10016 TEL: 212.685.2050
– NEW YORK MEDICAL LASER
Manhattan:333 5th Avenue, 2Floor NewYork, NY 10016