Available in High Gloss White finish (special order 8-12 weeks), High Gloss White Front / Walnut (in stock) and High Gloss Black Front / Walnut (in stock).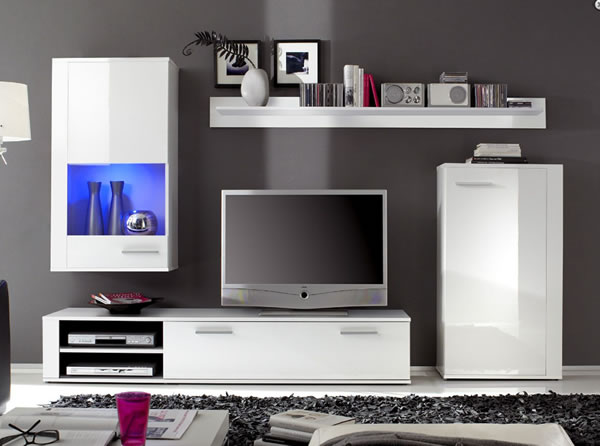 MATERIAL/CONSTRUCTION:
E1-Class ecological panels, which are produced exclusively through a wood recycling production process.
The structures and the front in wood finishes are made of chipboard.
The lacquered structures and fronts are made of REAL POLISH SCRATCH PROOF LACQUERING, which is a non toxic and non allergic product.
Lights not included.
Dimensions:
Wall Unit: W99″ x D17.9″ x H63″.
TV Stand: W71.3″ x D18.2″ x H12.8″.
Base Unit: W23.6″ x D12.6″ x H42.6″.
Hanging Unit: W23.6″ x D12.6″ x H42.2″.
Wall Shelf: W71.3″ x D6.7″ x H6.3″.
**Starting price for Wall Unit in High Gloss finish without the lights.
**Special Order 8-12 Weeks.
Made in Italy.
WWW.furniture4home.net
Phone: (877)-400-0068
WEEKLY SPECIAL
For orders over $5000 your shipping is Free!
111 Commerce road
Carlstadt, NJ 07020
United States
http://furniture4home.net/product/va-1029-modern-wall-unit