www.beautyspausa.com beauty spa usa.com webpage Manhattan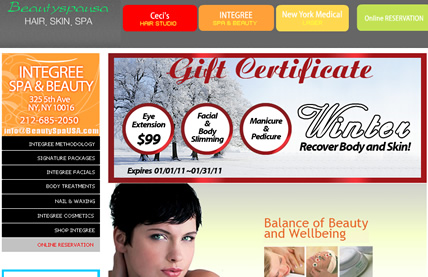 Silhouwell Fit and Silhouwell Comfort are two innovative machines for body sculpting.
Silhouwell Fit is dued to stimulate the activation of the aerobic caloric consumption. The customer sits comportably inside and carries out a light pedalling at a temperture of 36-38° degrees.
Silhouwell Comfort improves the outline of your silhouette thanks to infra-red rays, micromassage and chromotherary. This helps to remove excess liquids, toxins and lactic acids and helps to relax and relent muscular tention. Mud theraphy is included with this service.
CECI'S HAIR STUDIO
Manhattan: 333 5th Avenue, 2Floor NewYork, NY 10016
– INTEGREE SKIN CARE
Manhattan: 325 5th Ave, New York, 10016 TEL: 212.685.2050
– NEW YORK MEDICAL LASER
Manhattan:333 5th Avenue, 2Floor NewYork, NY 10016