Archive for the 'New York' Category
Ari Kagan –  New York  famous   Russian speaking TV personality,  journalist, District Leader and candidate for NYC Council about new De  Blasio  initiative fighting with  drug overdose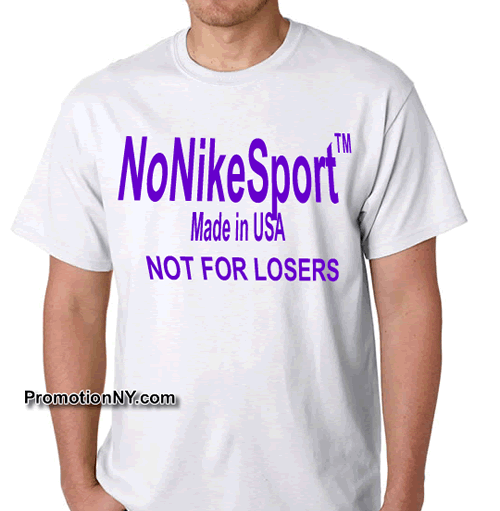 Not For Losers 
T-shirts collection from USA –   NoNikeSports  – Sportswear –  t-shirts, hoods. jackets,  sport shoes sneakers
NoNikeSports –  Made in USA
"United We Stand: How Can We Bring Brooklyn Communities Together?"
List of Guests for Brooklyn  Forum
1. Moderator – Ari Kagan, Democratic District Leader, 45 Assembly District (Brighton Beach, Sheepshead Bay, Midwood, Gravesend)
2. Nancy Tong, Democratic District Leader, 47 Assembly District (Bensonhurst, Gravesend)
3. Shirley Aikens, President, Carey Gardens Resident Association in Coney Island
4. Amarilys Herrera, Vice President, Marlboro Houses Resident Association
5. Dr. Tim Law, Member of Community Board 11, leader in the Chinese American Community in Bensonhurst
6. Erum Hanif, Program Director, APNA Brooklyn Community Center, representing Pakistani American Community in Brighton Beach, Member of Community Board 13
7. Joseph Bova, Democratic District Leader,  49th Assembly District in Bay Ridge 
8. Steven Mostofsky, Acting Supreme Court Judge, Midwood Resident
9.  David Shwartz, Democratic District Leader, 48th Assembly District, Boro Park and Midwood
10. Ingrid Joseph, Civil Court Judge, Resident of
11. Brian Gotlieb, President, Toys for Tots, Member of Community Board 13
1. Jarkyn Torobek
2. Kakhaber Kriheli
3. Alanna Slepitsky
4. Felix Slepitsky
5. Azhak Adler
Where BRIC ART
https://youtu.be/A_EuXlAse9o
h
Promotion for Harlem fashion week is on the lookout for fashion week 2018. by Patrick goody Metivier at Museum of New York.
Promotion for Harlem fashion week is on the lookout for fashion week 2018. by Patrick goody Metivier
BRIC JazzFest 2018
From October 13-20, the fourth annual BRIC JazzFest will once again take over BRIC House with film, dance, conversation, and a three-stage, three-night live music marathon that brings some of the most exciting global legends in jazz and groundbreaking emerging jazz artists to Brooklyn. Check out the artists performing at the BRIC JazzFest 2018 Marathon below—more to be annoounced!
BRIC is offering $70 Early Bird 3-Day Passes for the BRIC JazzFest 2018 Marathon (October 18-20), which will go on sale to the public on Friday, June 29 at 10am. Pre-sale for BRIC House Members is now live. This is a limited time offer, so lock in your 3-Day Passes at the lowest price today!
See the confirmed Marathon artists below and check back as we'll be announcing the full schedule soon!
Curated by Lia Crockett, Brice Rosenbloom, and Jack Walsh
More at bricartsmedia.org

https://youtu.be/xW1i2L7hBDIhttps://youtu.be/IwAjLr6j1SIhttps://youtu.be/5pqSSf3LmfM
PMG STUDIO Production is about to come out with sires of webisodes
Youtubers   Festival in NYC  – First International Youtubers   New York  Festival
New York International Youtube  Festival  – an international digital video festival, held annually in New York.
The festival, founded in 2018 by  Manhattan Business TV, showcases the talent of online video creators who have debuted their work on YouTube.
New York International Youtube  Festivalis   –    "The World's  Biggest festival dedicated to YouTube content in USA".
Programme
New York International Youtube  Festival features several different types of programming:
Theatrical screenings of curated YouTube videos.
Trade Show – Meetups, which allow fans to meet their favourite YouTube creators, new technology equipment producers, editors, marketologs etc .
The Gala Red Carpet, an outdoor red carpet with interviews and autograph opportunities.
The Gala Premiere, a limited-seating screening whereby featured YouTube creators are given the opportunity to unveil new work in a theatrical setting.
Industry Day, a one-day conference aimed at "industry professionals" – brands, celebrity YouTubers, multi-channel networks, and those working in digital marketing and entertainment – to promote skill-sharing, networking and strategy amongst those who utilise YouTube as a key marketing or distribution outlet.
Creator Day, a day-long series of workshops that focuses on providing advice to up-and-coming YouTube creators.
The Youtube festivals in Canada –
Buffer Festival 2017 – Gala Awards Red Carpet Live Stream